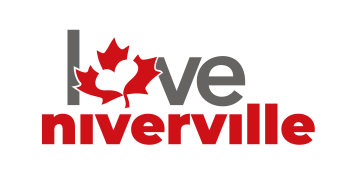 Announcement of Love Niverville Project in Conjunction With Helping Hands
The local Congregations of Niverville are pleased to announce a collaborative and a cooperative approach in conjunction with Niverville Helping Hands with an expanded vision called Love Niverville in reaching out to the social and economic needs of people who live within the vicinity of Niverville, New Bothwell, Otterburne and Ste. Agathe. Care packages will be made available twice monthly to people in need, particularly those who have been adversely affected by the COVID-19 crisis.
The intent is to show compassion for those with a physical need of food, and also to offer a listening ear to those who may be coping with stress, anxiety or depression. The vision is to connect with people where they are at in distributing to their needs in whatever area—physically, emotionally or spiritually.
Requests for a care package which will include an offer of spiritual and/or emotional support can be made and processed at one of the ten local charities/churches that are involved in this project. For the purposes of requests made through Maranatha, the contact person is Karen Unrau.
Maranatha Niverville Karen Unrau 204-388-4795
If phoning, the best time to call is between 9:00 and 12:00 noon on Tuesdays and Thursdays. Otherwise, one could either leave a message, or email a request, but Karen will need specific information in order to know the size of the family, and any other personal needs or requests from the family directly.
A few guidelines to keep in mind:
Food items will be largely non-perishable items and food vouchers with a local business.
Donations for this project are income tax receiptable, and gifts can be processed through Maranatha Niverville but please designate Project Love Niverville on a separate sheet of paper.
Distributions will continue for as long as there are funds in this project fund which will be managed responsibly through a team from all of the churches coordinated by Gord Kroeker, the director of the Niverville Youth for Christ.
The first distribution date for food hampers will be on Thursday, May 14. The deadline to request a hamper and fill out requisition forms for this initial distribution must be in by Monday, May 11. Thereafter, we anticipate care packages going out on the second and the fourth Thursday of every month, with requests needing to be in by the previous Monday.